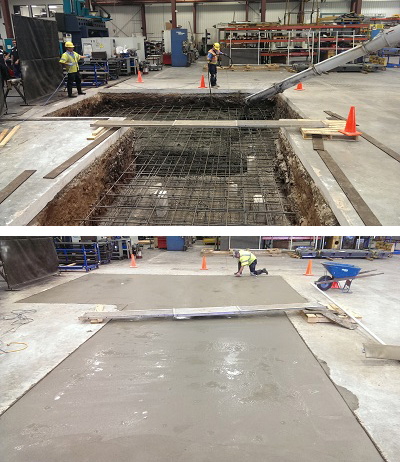 Concrete Machine or Motor Base installation, Coring and Removal Options
1. New Base Installations:
a. Full service Per Specifications* including existing concrete saw cutting, concrete removal, excavation, reinforcing, concrete installation and core drilling if needed
2. Existing Machine Base Wire Sawing and Removal
a. Diamond wire saw existing machine or motor bases flush with the floor thereby saving time on the schedule, eliminating Dust and requiring the floor to be patched later. Please see our Diamond Wire Sawing Services tab for more information.
b. Partial bases can be cut off as well
c. Complete cutting and removal options available
3. Tailored packages available depending upon your specific needs
*We recommend all Bases be designed and specified by a Structural Engineer